On Thursday, August 18th we woke up extra early to head out to the Adirondack Mountains for a long weekend backpacking trip.
The drive was lovely and luckily uneventful. We stopped at the adorable Noon Mark Diner in Keene Valley for lunch, grabbed a bear can at The Mountaineer, and drove over to South Meadows Road to park and begin our hike.
The hike in was short and sweet - about 2.5 miles. We camped next to the Marcy Dam, and had dinner on a nice sandy beach of sorts. We went to bed early, knowing that we'd have a long day on Friday.
Friday we were a bit slower getting up and going than planned. We had a 2 mile hike to get to the beautiful Avalanche Lake, where we stopped for some pictures. To get around to the other side of the lake we had to climb a few wooden ladders and cross several interesting wood plank bridges. Stunning rock face and clear water with a touch of terrifying!
We continued to enjoy a lake-side view as we passed Lake Colden, and set our sites on getting to our campsite for the night. We were actually headed for a camping area near the Uphill Lean-To, but managed to walk right past it somehow... leading us to a campsite next to the Feldspar Lean-To (and about half a mile closer to Mount Marcy!).
We enjoyed a dip in a brook and had dinner "on the beach" again. I tried astronaut ice cream for the first time (surprisingly good!) and severely lost at playing rummy with Kenny. We wanted to stay up to see the stars, but were both exhausted. I managed to get up for a few minutes to gaze at the breath-taking full moon in a clear sky.
Saturday was the big day!
It was time for our hike up and over Mount Marcy, the tallest mountain in New York state (elevation of 5,343 feet - prominence of 4,914 feet), with full packs. Luckily, it was only about 2 miles from where we camped!
We came up the side of the peak which isn't really accessible for day hikers, so we didn't run into anyone - just me and Kenny on the side of a big beautiful mountain! There were prominent cairns all up the trail, since the yellow spray painted trail marker was hard to follow. Even when we were just halfway up, it felt like we were on top of the world.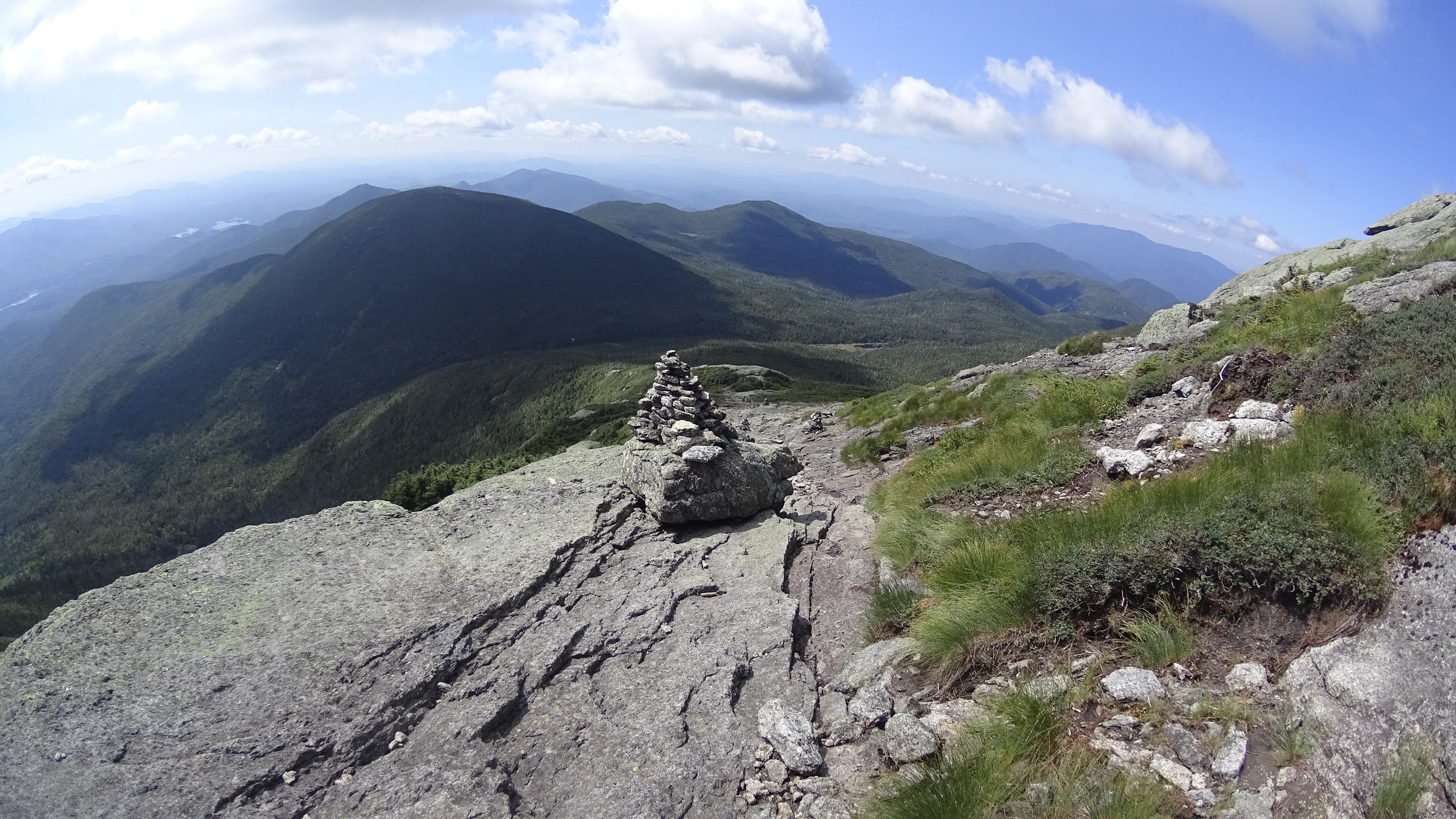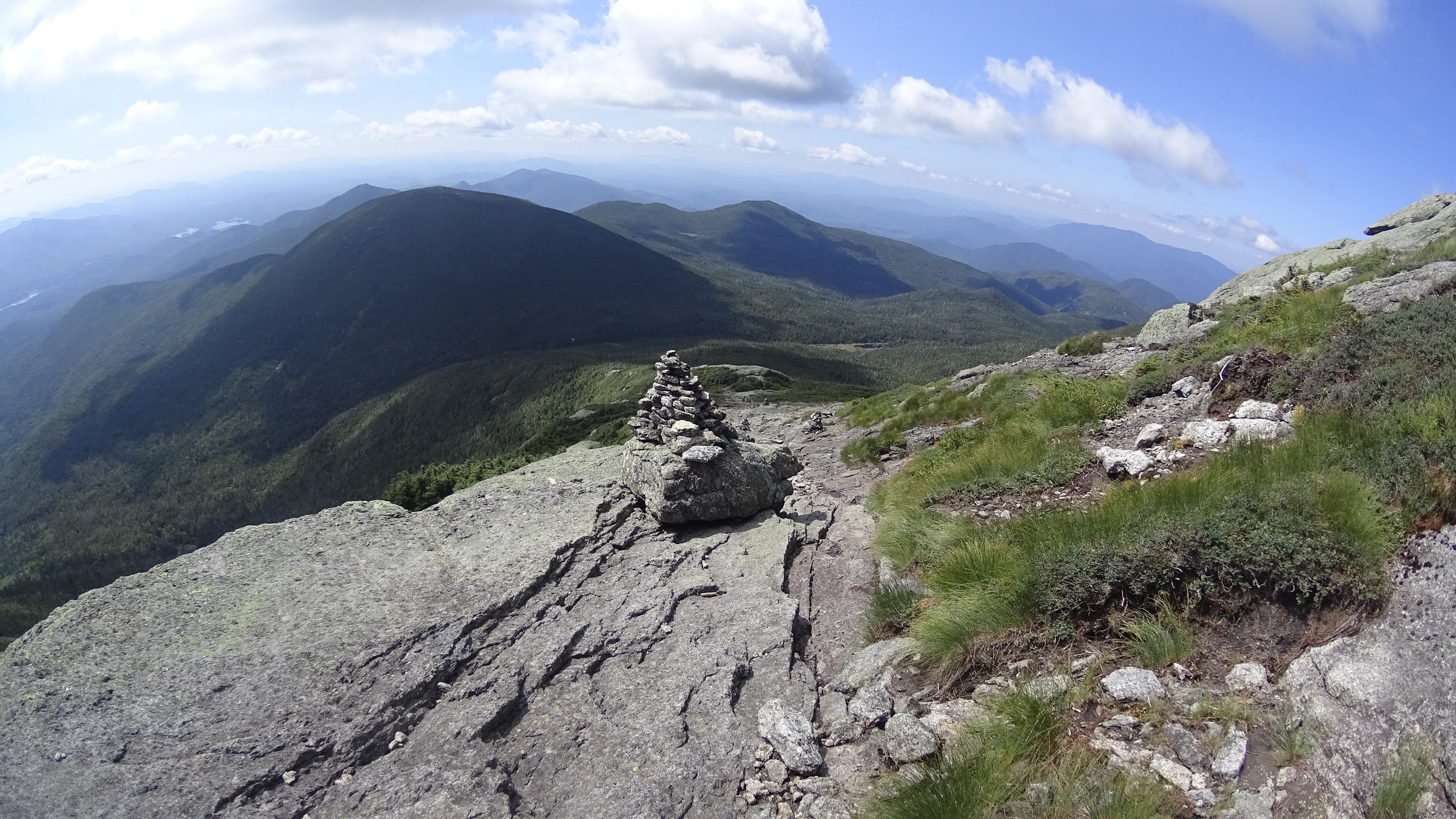 Once we reached the peak, we were greeted by a sweet "Summit Steward" who told us about the rare and delicate alpine vegetation. Before Kenny and I plopped down to eat our well deserved lunch, we actually ran into an acquaintance that we met through the Appalachian Mountain Club! She was even on an AMC trip. Such a small world. So we ate while enjoying the spectacular 360 view, soaking up the sun as the crisp breeze blew right through my windbreaker.
It was time to head down the mountain - we had several more miles to go before reaching our campsite for the night. Before we left, I wanted to make sure we got a good picture with the mountains behind us. I asked a nice stranger to take our picture (full packs on and everything!) before they got settled on what I consider to be the best spot on the peak.
She took two or three photos, then Kenny says, "Wait! One more!"
I figured he was pulling out his camera or phone for her to take a picture, which seemed redundant to me... Instead, it was a ring box! With a ring!
He got down on one knee, almost toppling off the big rock... ending up on both knees. "Will you marry me?" I have no idea in what order I said what. He said I was saying "YES!" before he even asked. It's all a blur! I popped the ring on my finger, crying. He stood up, and we struggled a hug with our backpacks on, but made it work.
We took a few more photos and got congratulated by our AMC extended family/audience of strangers. Before we could go down the mountain though, I had to take off the ring and put it back in its box. It was necessary because there was going to be some butt-sliding and potential rock grabbing and general 'trying not to fall or die' techniques that would rough up a shiny beautiful ring. It was a tough hike down, having to put the ring away!!! It was also pretty awesome because we weren't going to have cell phone service until we left the forest - so we got to cherish the moments without thinking about having to make calls or send texts. Kenny just got to hear me on repeat: "I can't wait to wear the ring! I can't wait to call my mom!"
We had a bit over 5 miles to get to the Johns Brook Lodge, where I would receive my ring AND a bowl of ice cream. If you know me at all, patience is not one of my virtues. But, we made it. We chose our site, I put the damn ring on, and we set up camp! Our first meal as an engaged couple was freeze dried chicken and mashed potatoes (very romantic). A friendly group of folks mentioned that they had completed the 46 peaks, and I couldn't help but say... "We didn't finish the 46, but we did get engaged on top of Mount Marcy!!!" After washing up and settling in to the tent, we went to sleep early to the sound of the wind whistling through the trees, and slept hard.
Sunday we took our time packing up. We had our last freeze dried meal (eggs and ham) for breakfast, treated ourselves to coffee from the lodge, and began the journey back to the car.
It was glorious to take off our boots, put on a change of clean clothes and sit on a padded seat for the ride to Keene Valley. We drove back to The Mountaineer to drop off the bear can, and went Noon Mark Diner for celebratory coffee milk shakes and a basket of fries. Kenny and I sat inside as the sky let loose and poured and poured. Glad we dodged the storm!
Our next stop was the Stoneleigh Bed and Breakfast in Elizabethtown - which is actually where Kenny took me as a surprise for our 6 month anniversary (2 years ago!). We took wonderful amazing delightful hot showers and hopped in the car to go to Lake Placid for dinner. Dinner was at Smoke Signals, where we were blessed with an impressive rainbow and grand view of the lake. It was the perfect cap to a perfect weekend.
Thank you to everyone who managed to keep this Secret!
I am so excited and grateful to be spending the rest of my life with Kenny.